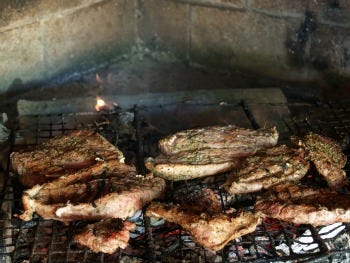 Nothing says summer quite like a backyard barbecue. Outdoor barbecuing gives you a great excuse to enjoy the warm weather and good friends. Barbecuing also gives you and your friends a chance to indulge in comfort food favorites. An outdoor BBQ chef brings meat-loving foodies together with sizzling burgers, plump sausage and the American classic – barbecued ribs.
So whether you're gearing up to grill for friends and family this summer or you're looking to bring some "down home" fare to your restaurant kitchen, check out the following dry rub recipes that are sure to take your meat from mediocre to mouthwatering.
Memphis Dry Rub
Memphis barbecue is famous for its ribs, which are traditionally served without a traditional barbecue sauce. To make your own version of Memphis-style ribs you'll need to start with the perfect rub. Here's what you'll need…
Ingredients:
1/4 teaspoon cayenne pepper
1 teaspoon ground cumin
2 teaspoons paprika
1 teaspoon dry oregano
1 teaspoon sugar
1 teaspoon salt
25 grinds fresh black pepper
3 teaspoons vegetable oil
For more details on how to make mouth-watering ribs using this rub, check out the full recipe on Epicurious.com.
Kansas Dry Rub
Kansas City-style barbecue features a variety of different meats, but the signature taste is always in the barbecue sauce. Still, every great Kansas-City inspired barbecue dish starts with a classic dry rub which – by tradition – is on the sweeter side. Here's what you'll need to make your own delicious Kansas Dry Rub at home:
Ingredients:
1/2 cup brown sugar
1/4 cup paprika
1 tablespoon black pepper
1 tablespoon salt
1 tablespoon chili powder
1 tablespoon garlic powder
1 tablespoon onion powder
1 teaspoon cayenne pepper
Use this rub to jazz up simple barbecue chicken on the grill.
Carolina Dry Rub
Pork is THE traditional meat of choice when talking about Carolina barbecue. So whether you're serving it up sliced, shredded or pulled at your next cookout, flavor it up with this dry rub before you toss it on the grill or slow-roast it to perfection.
Ingredients:
2 teaspoons salt
2 teaspoons sugar
2 teaspoons brown sugar
2 teaspoons ground cumin
2 teaspoons chili powder
2 tablespoons freshly ground pepper
1 tablespoon cayenne pepper
1/4 cup paprika
Note: This rub can last up to 6 months when stored in an air-tight container. 
Texas Dry Rub
Many refer to Texas as the barbecue capital of the world. Texas covers a broad range of barbecue styles including barbecued chicken, barbecued  brisket, barbecued pork, and its famous Central Texas barbecued sausages that feature strong and smoky flavors. Try the following rub recipe on your favorite type of meat at your next cowboy-inspired cookout:
Ingredients:
1/2 cup chili powder
1/2 cup brown sugar
1/2 cup salt
1/2 cup fresh ground pepper
1/4 cup dry mustard
1/4 cup ground cumin
Ground red pepper to taste
Pair your Texas-inspired barbecue dish with this hearty potato salad and enjoy!
Rosemary Garlic Dry Rub
If you're a bigger fan of chicken than you are of red meat – or if you're looking for some less traditional barbecue flavors – this Tuscan-inspired rub might be right up your alley.
Ingredients:
1/4 cup dried rosemary
2 tablespoons dried oregano
1 tablespoon dried sage
2 tablespoons dried garlic flakes
1/3 kosher salt
2 tablespoons cracked black pepper
Serve up your Tuscan-dish along with a lighter side like these baked parmesan tomatoes.
Jamaican Jerk Dry Rub
If you enjoy Caribbean flavors such as nutmeg, all spice, ginger and cinnamon, this dry rub is an ideal way to put a tropical spin on your next summertime cookout. This rub works best when used on poultry or pork.
Ingredients:
2 tablespoons kosher salt
2 teaspoons brown sugar
2 teaspoons garlic powder
2 teaspoons onion powder
2 teaspoons ground all spice
1 teaspoon crushed dried hot pepper
1 teaspoon dried chives
1 teaspoon paprika
1 teaspoon ground black pepper
1 teaspoon ground nutmeg
1 teaspoon ground ginger
1 teaspoon dried thyme
1/2 teaspoon gound cinnamon
1/2 teaspoon ground cloves
Treat your friends and family to even more tropical flavor sensations with one of these refreshing cocktail recipes.
Classic Pork Dry Rub
From pork chops to grilled pork loin, pork is definitely a popular choice among barbecue connoisseurs. This basic rub recipe is quick and easy, making it the perfect add-on to your favorite pork dish.
Ingredients:
1/3 cup paprika
1/4 cup sugar
3 teaspoons black pepper
2 tablespoons salt
2 tablespoons cayenne
1 teaspoon white pepper
Note: Recipe yields enough rub for 5-6 pounds of meat.
For a great accompaniment to your pork, try this perfectly grilled corn on the cob.
Of course, every true BBQ grill master has his or her own time-tested spice rub.  If you're willing to share your recipe with the ChefWorks community, leave it below in the comments section!